bachert&partner repeats with top rankings in the annual Brand eins ranking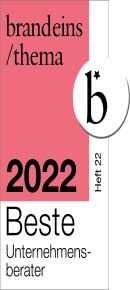 From over 25,000 consultations1 in Germany, clients and colleagues have been selected in the 2022 best list together with Statista bachert&partner according to a survey by the business magazine Brand eins.
In 2022, in the ninth year of the annual survey in the field of mechanical and plant engineering, we were able to place ourselves among the best management consultancies in Germany.
For the seventh time, we have been awarded three stars in the area of restructuring - for the first time (in total: 1 colleague recommendation and 2 client assessments). We say thank you!
1 BDU Market Study: Der deutsche Consultingmarkt in Zahlen